"These shorts are great for doing everything in, i wear them surfing and casually and they never fail to pull a compliment', Ben
Who We Are
THE ROCKS PUSH was a well dressed gang that once ruled Sydney.
Today, we're an Aussie brand that designs weekend wear for our planet and our people.
THE ROCKS PUSH men's swim shorts are made from recycled plastic bottles, to reduce landfill.
THE ROCKS PUSH men's linen shirts are made from European flax, to help our Earth breathe easier.
THE ROCKS PUSH rash vests are made from salvaged fishing nets and industrial offcuts, to clean our oceans.
THE PUSH FOR A BETTER TOMORROW.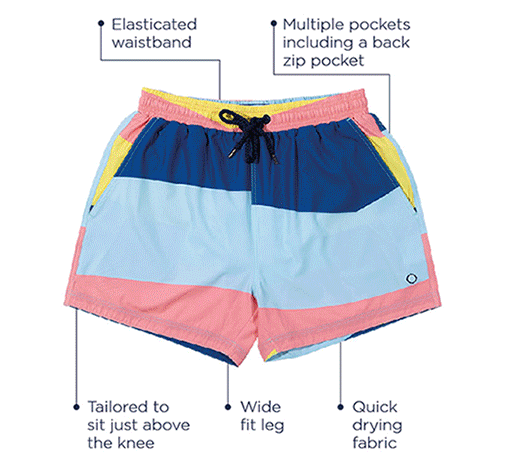 Made from 5 recycled plastic bottles
SUSTAINABLE SWIM SHORTS
We use REPREVE to make THE ROCKS PUSH swim shorts.
Recycled plastic bottles are cleaned and melted into resin, which is extruded into a high quality yarn, and made into fabric.
Choose from three styles of designer men's swim shorts and one style of classic boys' board shorts.
Each pair is quick drying, double stitched, with four-way stretch.